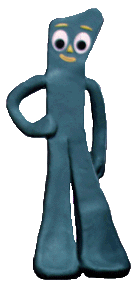 My son and I journeyed south to Astoria yesterday to spend the day with Gumby at the
American Museum of the Moving Image
. I worked there for about five minutes in the mid-80s, ok a bit longer, but it was during the period of rapid change when I hopped jobs and apartments frequently, that is to say, I was a young, unattached, restless New Yorker.
I still have a friend working at AMMI and it was great fun to visit him and see some of the inner workings of the museum. But the Gumby exhibit was the main attraction. My son, a committed filmmaker, liked the Gumby claymation demo well enough, but adored the 2D animation station, where the two of us sat side by side for hours making 100-frame animations with the provided cut-outs, then watching them. We saw a bunch of Gumby episodes, but my favorite piece from the Art Clokey oeuvre was a short called "Mandala" from 1964, an Eastern-influenced eruption of plasticity that will make you wish for a studio full of clay and an animation stand. That's what Art had in the 1100-sq. ft. basement where he shot Mandala, and his whole family worked on it. Gumby was something of a family effort as well—many of the plot lines came from stories Art made up to read to his children at night. (Even the shape of Gumby's head was family-inspired, but I won't give that one away if you don't already know; go see the show and find out the source of the adorable bump). We may safely add the Clokey family to the collection of creative spirit guides that inspire our playwork around this house.
Anyway, if you can get to museum, look for "Mandala" and "Gumbasia," Clokey's less commercial works, as well as lots of Gumby episodes, going back to the 50s.
When we finally tore ourselves away from Clokey and Pokey there was plenty else to wonder at, from a moving sculpture by Gregory Barsamian that takes advantage of persistence of vision to the special effects section, where my son took to a documentary about the mixing of archival and original footage in
Forrest Gump
. At the gift shop, he picked out a director's slate, which he has already started putting to productive use. For my husband, who bears a striking resemblance to the little green fellow, especially when he's smiling, we got a Gumby t-shirt. While animating we had missed the program of silent shorts in King Tut's Movie Palace, but given the choice between spectating and creating, what could we do? The day flew by; we hated to leave, but time was edging toward the last bus departure from Port Authority.
And we hadn't even had time to contemplate seeing the
Comix Ex Machina
show at the nearby Flux Factory!