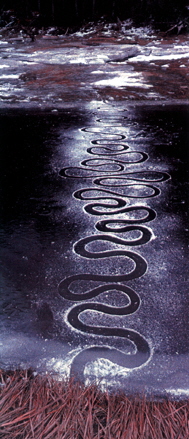 Thomas Riedelsheimer, 2001
90 minutes, color documentary
All ages
This is Riedelsheimer's beautiful portrait of sculptor Andy Goldsworthy, who works outside with elements of nature as his media: leaves connected by their stems carefully graded by color and set loose on a river, stones piled in to a beehive shape, scraped ice.
The movement of the sun and changes in the weather figure into his work as well, and children will recognize in Goldsworthy's studious, ambitious play, aspects of their own earthworks (if not, they need to spend more time outside).
The langorous, meditative pace of this film may be hard for children used to sensory overload, but the sheer technical skill Goldsworthy brings to his work should hold anyone's attention, and if you rent it you can watch it in pieces.