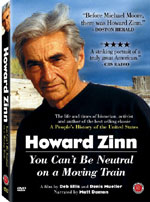 Deb Ellis and Dennis Mueller, 2004
color and b+w documentary, 78 minutes
Ages 9? & up
Resident 9-year-old says, "Well, I enjoyed it, but I think most kids would be restless and would rather watch a horrible crappy movie called
The Wild
instead of this." (Um, we didn't see
The Wild
.)
It ain't for nothing that you're parked at Alternative Films for Kids, folks!
This profile of professor/activist Howard Zinn, author of
The People's History of the United States
(which has sold a million copies), covers his adult life, which has spanned many of the key social and peace movements of our time. Ellis and Mueller track Zinn from his labor activism to his experience in the air force to his days as a Civil Rights leader at Spelman College to his peace activism during the Vietman War—and beyond. This is a great way for kids too young to read
A People's History
to learn some people's history—through the life of an engaged historian who continues to work for social justice.
Definitely not
The Wild
.
Note: contains some graphic archival footage of American police brutalizing demonstrators, bombs dropping during WWII and Vietnam, and Vietnamese civilians under attack.