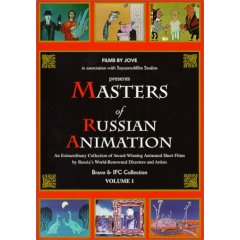 Various directors, 2000
Animated, Color, Subtitled, 133 minutes
All ages
Films included: The Story of One Crime (1962), The Man in the Frame (1966), My Green Crocodile (1966), There Lived Kozyavin (1966), Mountain of Dinosaurs (1967), Passion of Spies (1967), Glass Harmonica (1968), Ball of Wool (1968), Singing Teacher (1968), Film Film Film (1968).
A compendium of Russian shorts from the 60s produced in a variety of animation styles. Especially recommended: Vadim Kuchevsky's sweet, lyrical
My Green Crocodile
, done in stop motion; Nikolai Serebryakov's
Ball of Wool
about an old woman who knits herself a house from the wool of a magic sheep and is undone by her own greed, also stop-motion; and Anatoly Petrov's humorous
Singing Teacher
, done in pencil drawings, in which a hippopotamus tries warbling.