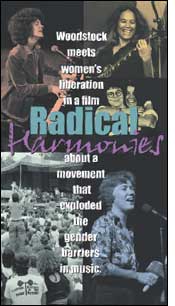 2002, Dir. Dee Mosbacher
90 minutes, color documentary
The story of the Women's Music Cultural Movement includes interviews and performances of some of the great feminists who revolutionized the music industry with women's festivals, women-owned music labels and women sound engineers. Here is a positive tale of how women seized the means of production at a time and in a field dominated by men. This is also a chronicle of rising lesbian awareness and what it meant to women to attend women's music festivals during the years when they were just getting started. Check out the production company,
WomanVision
.
One complaint: the performances are interrupted; wish we got to hear full songs interspersed with the interviews.
Ages 5 and up, but as always, pre-screen to verify your comfort level with the material.