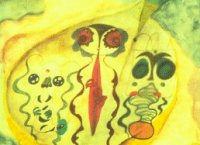 1986 / Hubley Studio
70 min., color animation
Three musicians from outer space observe Earth and offer a message of peace to our planet. Pioneer animators Faith and John Hubley collaborated often, but this one is Faith Hubley's only feature-length animated work. Our family loves their animations; the drawings seem to flow from the unconscious right to the pen in this work.
Many of their shorts, such as Star Lore, Sky Dance and Cockaboody, and Moonbird have been assembled in The Hubley Collection, a must-see. Daughter Emily Hubley is also an animator with some work posted on her website.
Recommended for all ages.